I now have a new website for Bow and Bandana sales
- please click the link below to access this.
If you have any problems or queries please contact me
All prices shown include postage at cost
Each paw is 6 x 7 cm and slightly raised. Made from ABS. Clean the surface first with detergent, peel and stick. Pack of 2. €6
3D Car/ Window/Decal Stickers
Baby Powder Pet Cologne Spray
This cologne spray has a lovely baby powder scent. Just one spray will make a difference to the spell of your dog's coat. Size 100 ml. €12.50
This slicker brush can be used for any coat type. Brush head size 4½ x 9cm. It is best used in conjunction with a comb to eliminate knots in your dog's coat through regular brushing. €12.50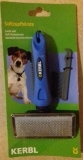 Size 19cm. This metal comb can be used on its own or together with a slicker brush to help maintain your dog's coat. Blue or purple. €10.50
This is the only clothes brush that I would use. It works magic on dog hair on any material. Size 10 x 8cm. €7.50

Furminator type De-shedding Tool
This de-shedding tool will not eliminate hair loss but it will greatly reduce it and the housework that goes with it. Ideal for short haired breeds but can also work for longer coats. Not recommended for non shedding breeds. This removes the loose undercoat and can be used everyday if needed, but once a week is ideal. €19.50
Dog Eye Cleaner/Tear Stain Remover
This eye cleaner is a cleansing lotion that can be used on eyes and sensitive mucus membranes. Removes the dust and impurities that irritate the eyes and helps prevent eyelids from drying out. Reduces stains underneath the eyes. Regular use prevents the yellowing of fur caused by tears. Ideally use daily until the stains are gone and then weekly for maintenance. Size 100 ml. €19.50
Ingredients: Aqua, Maris sel (from dead sea),Boric
Heavyweight Charcoal Dog Plush Door Stop.
100% Polyester. Height 26cm, width 13cm, depth 28.5cm. €19.50
Great design duvet set for all dog lovers. Duvet cover and two pillowcases. Easy care - 50% cotton, 50% polyester. €30.00
Fit standard 4-6 cup teapot. Individual designs - each one is unique!
Choose from long eared dogs or fluffy Scottie/Westie design. €15.00
Ideal for car windows or any other shiny surface. Size 21cm x 6cm. €6
"Talk to the Paw" Window/Car Sticker
Great sticker for all dog lovers. Ideal for car windows or any other shiny surface. Size 18 x 8cm. €6
"My Kids have Paws" Window/Car Sticker
Poodle Decal/Window Sticker - sticks to almost all clean surfaces. Background colour will be the colour of the surface you place it on, or clear if you put it on a window. Size 12cm x 12cm. €6
Poodle Window/Car Sticker
St Patrick's Day Bandanas
Overlocked edge bandanas, shaped to fit your dog's neck. Three sizes, small, medium and large. Measured tip to tip along neck edge.
Small, Size 17" - €4.50
Medium, Size 24" - €5.50
Large, Size 29" - 6.50
Medium, Pack 5, €12.50, Size 24" (measured tip to tip along neckline)
Large, Pack 5, €15.00, Size 29" (measured tip to tip along neckline)
Waggy Tails Dog and Puppy Grooming at Golden, Cashel, County Tipperary. Professional Dog Groomer - Clipping, Scissoring, Hand Stripping, Brushing, Trimming
Hand made dog collar bows and bandanas for Groomers Privacy Policy & Disclaimer